Philips Cooper HL7510/00 550-Watt Mixer Grinder with 3 Jars (Chili Red and White)
₹3,595.00 (incl. GST) (-36%)
For Live Demo & Unboxing Kindly Refer To Our Youtube Channel Below :
| | |
| --- | --- |
| Brand | Philips |
| Item Condition | UNBOXED Like NEW |
| Retail Packaging | Intact |
| Warranty | Up To 10 Months Of Warranty |
Product Description
The new Philips HL7510/00 Mixer Grinder is powerful and efficient. It promises to deliver fast results with minimal effort and mess in the kitchen.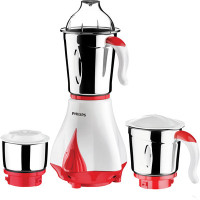 Design & Operation
The Mixer Grinder comes with an Intelli jar and blade design which ensures superior mixing and grinding of vegetables, as compared to average mixer grinders. The compact body of the mixer grinder makes it fit into small spaces. The ergonomically designed handles help you get a firm grip over the jars. The appliance has 3 speed options and pulse.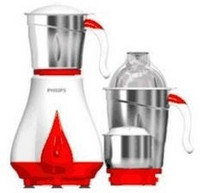 Construction
The housing material is made out of ABS plastic so as to withstand heavy applications. The appliance comes with strong suction feet for stability and minimal slippage while the machine is in use. The 3 jars are made from durable stainless steel. 2 out of the 3 jars have handles which give you a sturdy grip.
Power & Safety
The Mixer Grinder has a powerful 550 watt durable motor which is reliable and sturdy. It comes with overload protector which saves you from over exerting the appliance, consequently reducing the possibility of an accident.
Capacity
The 3 stainless steel jars vary in terms of capacity. The wet grinding jar has 1.25 l capacity. The dry grinding jar can take up to 0.75 l vegetables. The chutney grinding jar can hold up to 0.3 l of raw vegetables.